Nothing motivates quite as well as a little friendly competition, especially when money is involved. Since January 1st, I have been part of a weight loss competition group on Facebook, which has been a great source of motivation, with weigh ins every week, and a buy in of $5, to be paid to the winner at the end.
Our first 90 day challenge just ended on Sunday, and I didn't meet the goal I set at the beginning, which was to lose 40 pounds. I did, however, lose 21 pounds in that time, which was the same amount the winner lost, but since she started out 72 pounds lighter than me, her percentage lost was obviously higher. I didn't mind losing to her, though, because she's really great! That was one of the best parts of this group: I met some really awesome girls who are now my friends, and I'm excited to hang out with them again soon!
Part of the reason I didn't lose as much as I wanted to during the last challenge is that I didn't go to the gym very often in that time. School is keeping me extra busy this semester, but starting now I will be making more of an effort to work out several times a week. I just reconnected with an old friend from Tucson who now lives ten minutes away from me, and she also happens to already have a membership at 24 Hour Fitness, where I go. She has a lot of experience with personal trainers and she's gonna help me whip myself into shape! I love having someone to go to the gym with, and I'm happy to be able to spend time with this friend again. When we got together on Saturday night, we hadn't seen each other in ten years! We have gym plans every day this week while I'm on Spring Break, and that should be a really great jump start for the next challenge, which started on Sunday when the last one ended.
The goal I set for this challenge was to lose 31 pounds. I know that with the help of my group and my new gym buddy, this should be a breeze! I'm even gonna try to beat my own goal and lose more than 31 pounds, but it won't bother me if I don't. I know that all of this extra weight will be gone soon, and the most important thing is that I'm getting healthy and that I feel amazing! My life has changed so much in the last six months, and I go around with a perpetual smile on my face. I have always been a pretty happy person, but the joy I feel now that I've broken free from this stronghold that my weight had over my life is incredible!
A few extra things:
1. I'm taking a friend to get his driver's license in a few weeks, and at the same time, I think I'll get a new license picture and change my listed weight. When I got my license, I weighed 60 pounds more than I said I did, and now I weigh 19 pounds less than what is listed! So I'm gonna lie again and say I weigh 180, because pretty soon, I really will!
2. I put on the red dress again a few days ago, and I think I need to officially retire the dress. I had to hold onto a handful of material at the back to make it tight.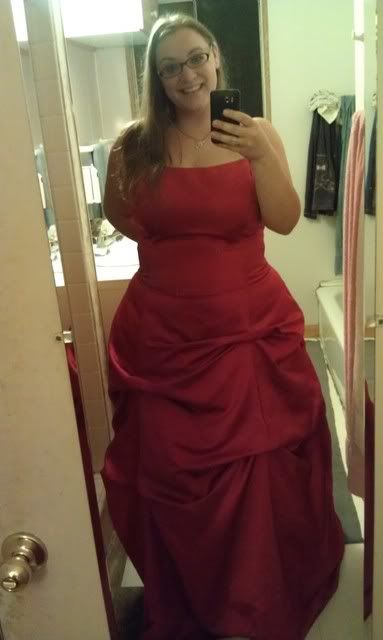 Compare that picture to this one of me wearing the dress on Christmas day. Alex and I decided that we needed to dress formally for Christmas last year. Haha!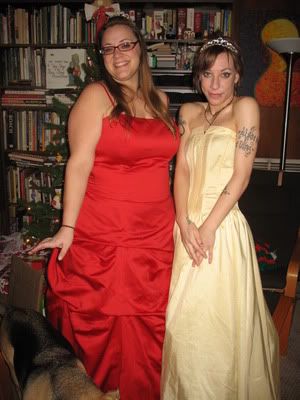 I think I should go try on beautiful dresses this week. I can't afford to buy one, but it will be fantastic to try on dresses that they have in the store because now I'm actually a size that they carry! I love that I still like to play dress up as much as I did when I was a little girl. Some things never change. Wanting to feel beautiful is something that is built into girls, and that desire will never go away, no matter how old I get.