Just to be cliche: Out with the old, in with the new! And also pretty soon it will be: Out with the old, in with the really old.
Let me explain. I have this thin pink sweatshirt that I used to wear constantly. It's perfect for cool weather, it's not too bulky to shove in my purse, and hey... it's pink. I'm not gonna lie, I love pink. A lot of my friends make fun of me for it, but I'm embracing my girlyness and there's not really much that anyone can do about it. I also like to cook and bake and watch extremely girly movies, through which I will most likely cry while I endure more mocking by my friends. Tonight I was with my friend Rocio and I mentioned something about a guy that I think is particularly cool and Jesus-loving, and also cute, and I could physically hear her rolling her eyes. I also happen to be wearing pink today, so I'm sure that added to the element of disgust for her. Oh yeah, pink! That was what I was talking about!
So anyway, this sweatshirt has sort of been through the ringer, and my mom has been trying to get me to get rid of it for years. She hates that it looks perpetually dirty, and that it's all stretched out. It doesn't even really look pink anymore, but I have been putting off throwing it away until I could find something similar with which to replace it. I never wear it anywhere except the gym anyway.
I was at Target recently, and found one I was gonna buy until I saw the $30 price tag. I am quite marvelous at finding good deals and not spending a lot of money, and in my mind, $30 can get a whole lot more than one sweatshirt. A few years ago, I bought an entire summer wardrobe for about $120, and I still wear those ten dresses. So I continued on my quest for a replacement sweatshirt, and found the perfect one at Walmart the other night for only ten dollars! I tried on the 16-18, which fit, but I didn't want to buy something that would fit now and be big in another few months, so I tried on the 12-14, and although it was a little snug, it looked fine, and I decided to get it. I also found a pair of size 18 jeans for $15, so I got those, and I'm super ecstatic to be in a size 18!! I haven't been able to wear an 18 since I WAS 18! In fact, this was the first time I have been able to shop in the regular section of a store in a really long time. I almost cried.
Here's the old sad dull pink stretched out sweatshirt: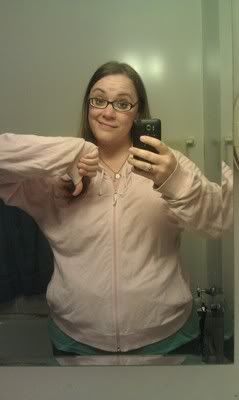 And the new one. I totally feel thin when I wear it:
The size 18 jeans: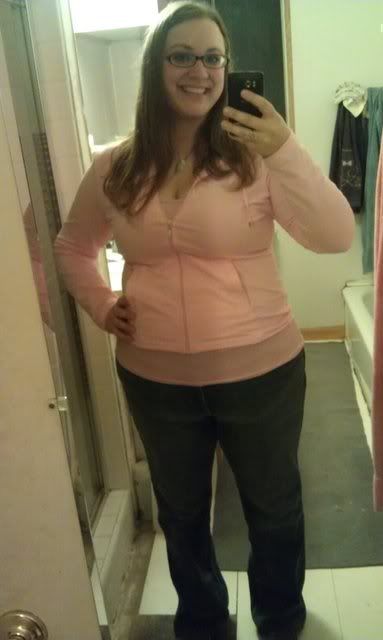 And there you have the "in with the new" segment. As far as the "in with the really old", perhaps you remember the post with all the pictures of how fat I used to be, which you can read
here
if you haven't seen it. I claimed there that my goal was to fit nicely into my high school prom dress again, and while it still doesn't zip, it does sit on the right place on my waist, which is a huge improvement over the last time I tried it on.
Here's what it looks like now: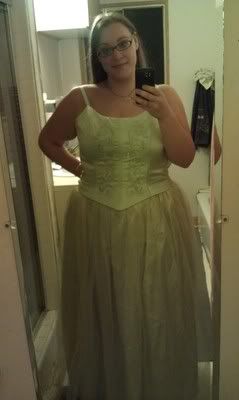 So there you go! I'll try that dress on again in a couple months. In the meantime, I'll keep claiming "I can do all things through Christ who strengthens me" (Philippians 4:13), because I know that it is only by His strength that I have come as far as I have. I could never do it on my own! Believe me, I tried.