I took some pictures of my progress the other day, and among them was a dreaded sideways shot. Those are usually the ones that make me want to curl up and die, but I was shocked at how grossed out I was not! To show how much my body has changed, I put the new side view picture next to one from mid-September: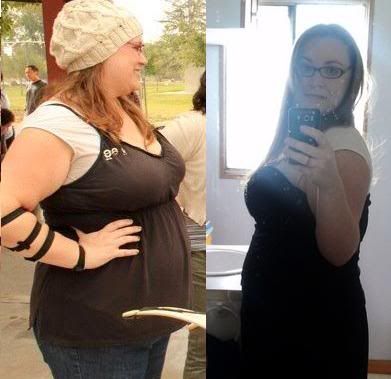 And a front view:
I feel like I'm not losing weight fast enough though. I lost forty pounds so quickly, and then it has been sort of slow going since November. I did
give in to the Christmas Fats
, and then re-lost those twelve pounds, and I have lost another five pounds since then, but I am a little discouraged, to be honest. I want it to always be easy and quick, and when it's not, I feel like I'm letting myself down. So here's a pep talk for myself:
Self. You're not gaining. You're not even at a plateau! You've just slowed down a little because you're SO BUSY this semester and you can't go to the gym every day. And that's okay, because it's just for a season. You're very active now, and after you ran across that field yesterday you were breathing almost completely normally! You're STILL MAKING PROGRESS!!! It's actually better to lose weight slowly and keep it off than to drop a giant subcutaneous chunk all at once and then regain because you can't maintain your crazy methods of loss. Trust me (or you, we're the same person), you're still doing a good job, and you look FANTASTIC!!! Also, although your weight is only down 5 pounds more than it was before Christmas, with the gaining and re-loss of the Christmas Fats, you have actually lost seventeen pounds since January 1st. So that's not as slow as it seems!!! Oh, but you need to drink more water. You're totally slacking there. End Pep-talk.
Okay, I feel better.